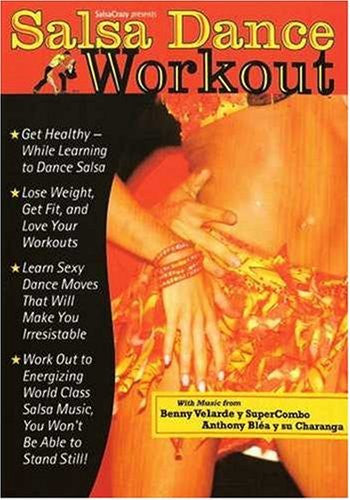 ---
The passion, excitement, and rhythm of salsa dance, mixed with an exhilarating and fun workout, SalsaCrazy presents, for the first time ever, your favorite
dance workout
, a Salsa Dance Workout!
A different style of video than SalsaCrazy's best-selling step-by-step, dance instructional videos (also available on amazon.com), the salsa workout is simply several common, real club style salsa dancemovements and patterns practiced to stellar salsa music for the purpose of getting a great cardio workout that is extremely fun while being a great exercise routine.
This is it, Salsa Crazy brings you the ultimate mix of Dance and Fitness, with SalsaCrazy s fantastic and fun salsa dance workout. There s no dance experience and no partner required. In fact, you ll learn all the fantastic dance moves, and have them broken down step by step, before we dance them to music. With world class salsa music, and real salsa dance moves, this fun and energetic DVD will quickly become your favorite workout. Designed so that everyone can experience the benefits of a great workout, while learning how to salsa dance.
This 2 hour DVD has a great stretching and warm-up session, followed by breakdowns of both Beginning and Intermediate Salsa Dance moves, that are then danced to some of the finest salsa dance music in the world. All this, and you ll be ready to hit the nightlife scene too, because you ll be learning real Salsa Dance moves, not some generic aerobic workout danced to Latin music. This is the real thing and the real deal.
---
Share this Product
---
More from this collection