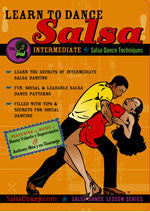 Intermediate Learn to Salsa Dance, Volume 2 [of a 2 DVD Set]
---
An Intermediate Guide to Salsa Dancing!
Ready to take the jump from beginning to intermediate? If you've been following our Beginner Series of DVD's you'll be ready for the challenge of Intermediate Level salsa dance, in our two volume Intermediate Salsa DVD set. This salsa dance video guides you through all the basics, and all the fundamentals of Intermediate style salsa dancing - from the most important concepts of connection and grounding, to the fun and social intermediate style salsa dance patterns, this video will keep you dancing to the fantastic music of Benny Velarde Y su Supercombo, and Anthony Blea y su Charanga (two world class bands from San Francisco, that you're probably hearing at your local salsa clubs)!

This DVD will challenge you with fundamental intermediate style patterns involving multiple turns, and reward you with a lot of fun and usable salsa dance knowledge you can take right out to the club with you!
WHAT YOU'LL LEARN:
• Fun Leading and Following Exercises, and Connection Detailed: This is what many, including myself, consider that which makes a true intermediate dancer. The connection to ones partner! It's a difficult concept that we cover in our beginner series, and now expand on in our Intermediate series with exercises and a couple of warm-up patterns that emphasize technique.

•The Pretzel - An often asked for move, that once you master (with a key twist, and hand change), becomes easy and fun to lead on the dance floor.

•Flourishes and additions to your basic and cross body lead- Take it to the next level by adding a little style to your substance!

•The Pretzel - Dips, the basics, and a little flourish.

•Back Spot Turns and Multiple Rotations- It's so much fun, and dazzles on the dance floor! More Follower's Technique, Proper Spotting for Turns, Neck wraps (not drops), and so much more . . .. .
---
Share this Product
---
More from this collection