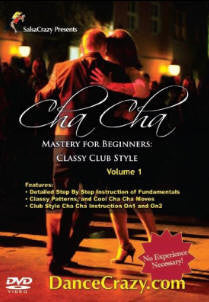 Cha Cha Cha for Beginners - Club Style Cha Cha Cha [On 1 / On 2]
---
All the basics, and all the fundamentals of Club Style Cha Cha Cha, including some fantastic and fun patterns to dazzle your partners. This is a unique and complete, step-by-step Cha Cha Cha instructional dance video, unlike any other! Learn to dance Club Style Cha Cha Cha "On1" and "On2"
WHAT YOU'LL FIND:

Amazingly detailed instruction, picture in picture close ups, and plenty of music to practice to makes this is a breakthrough DVD in Cha Cha Cha instruction. With step-by-step breakdowns, demonstrations, and guided practices, this Cha Cha Cha instructional DVD gives you a comprehensive look at Cha Cha Cha dancing, On1 and On2.
Limited Time Offer, expires very soon -- Order Now!
---
Share this Product
---
More from this collection