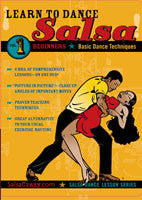 Beginners Salsa Mastery System - Learn to Salsa Dance, Volume 1 [1 of 3 DVD Set]
---
Beginners Series!
A Beginners Guide to Salsa Dancing!!
2 Hours of the finest Salsa Dance Instruction available.  Perfect for the absolute beginner, and no dance experience is necessary! It's a wonderful gift, this DVD will get you, and everyone you know, started in Salsa Dance. Give it a try today - you'll love it!  Don't miss this fantastic DVD that walks you through all the fundamentals of Salsa Dancing in a fun, social and energetic way.

Volume 1 is the beginners handbook and a must have for aspiring dancers. Our salsa dance instructional Video and Dance Lessons are for absolute beginners. Learn to move in minutes and be out on the floor in record time. A video for anyone & everyone! We cover every aspects of what Salsa is all about. Includes great moves and ladies styling tips that will get you noticed. A full 2 hours of stellar dance instruction you can use tonight.  This professional DVD will inspire you to get moving!
This video is unique, and is by far the finest produced DVD you'll find on the market. Apart form having 2 hours of exceptionally detailed instruction, it also provides aunique picture in picture view and easy to use DVD navigation. We make Salsa Dance accessible to everyone! If you can move - you can salsa . . .
SOME OF WHAT YOU'LL LEARN:
•Basic Steps - Learn the basic steps, and rhythms of salsa dancing in club style, based on the On1 Style danced in most areas throughout the world.
•Fundamental Partnering and connection techniques


---
Share this Product
---
More from this collection