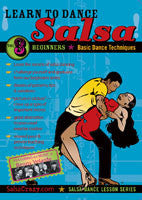 Beginners Salsa Mastery System - Learn to Salsa Dance, Volume 3 [3 of 3 DVD Set]
---
The final volume in our 3 volume beginners set, this introduces some more difficult patterns, and goes into depth on connection and grounding for dancing at an intermediate level. Fun and challenging - this video will keep you busy for quite some time!
SOME OF WHAT YOU'LL LEARN:
Cross Body Lead Inside Turns, Spins, intricate patterns and tricks - good training!
Designed to truly prepare you to become intermediate salsa dancers!
Great content, fully ready for the clubs!
Everything taught is lead-able and follow-able!
Learn some fantastic "shines"
Important secrets of leading and following revealed!
All patterns and steps demonstrated with music!
Techniques normally reserved for private lessons.
The concept of connection, detailed and explained.
---
Share this Product
---
More from this collection